Graphic recording uses hand-drawn images, words and color to help people see what they talk about. From presentations to strategic planning, visuals are increasingly seen as a valuable part of presenting and gathering information.
I'm Amy Sparks. I learned about the value of using visuals with groups a few years ago. A friend told me about the field of visual facilitation and graphic recording and I was hooked.
I've worked in a variety of settings - with corporations that want to increase learning by incorporating graphic recording; with community groups wanting to document important conversations; and with nonprofits wanting to demonstrate their work visually. Working together, we generate a piece that helps clarify a conversation, simplify a work plan, or tell a story. It's a productive way to work (and fun too!).
Graphic recording done live
Using a combination of images and words, visual recordings can capture the spirit and essence of a gathering. Adding images helps memory, engagement and understanding (and just makes things more fun!). If you would like help conducting or recording your meetings, we can work together to create visual processes that help keep meetings on track, focus conversation and build consensus.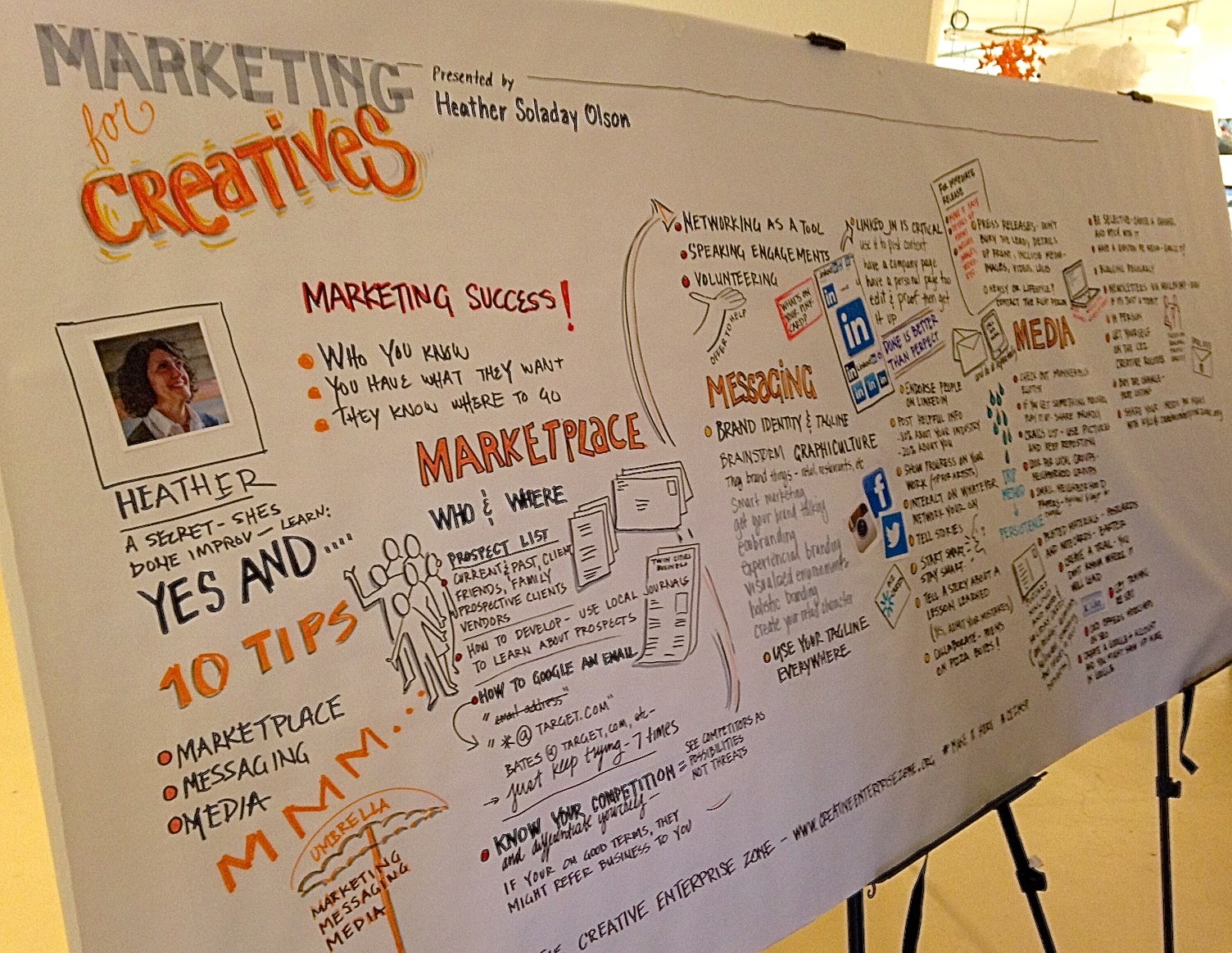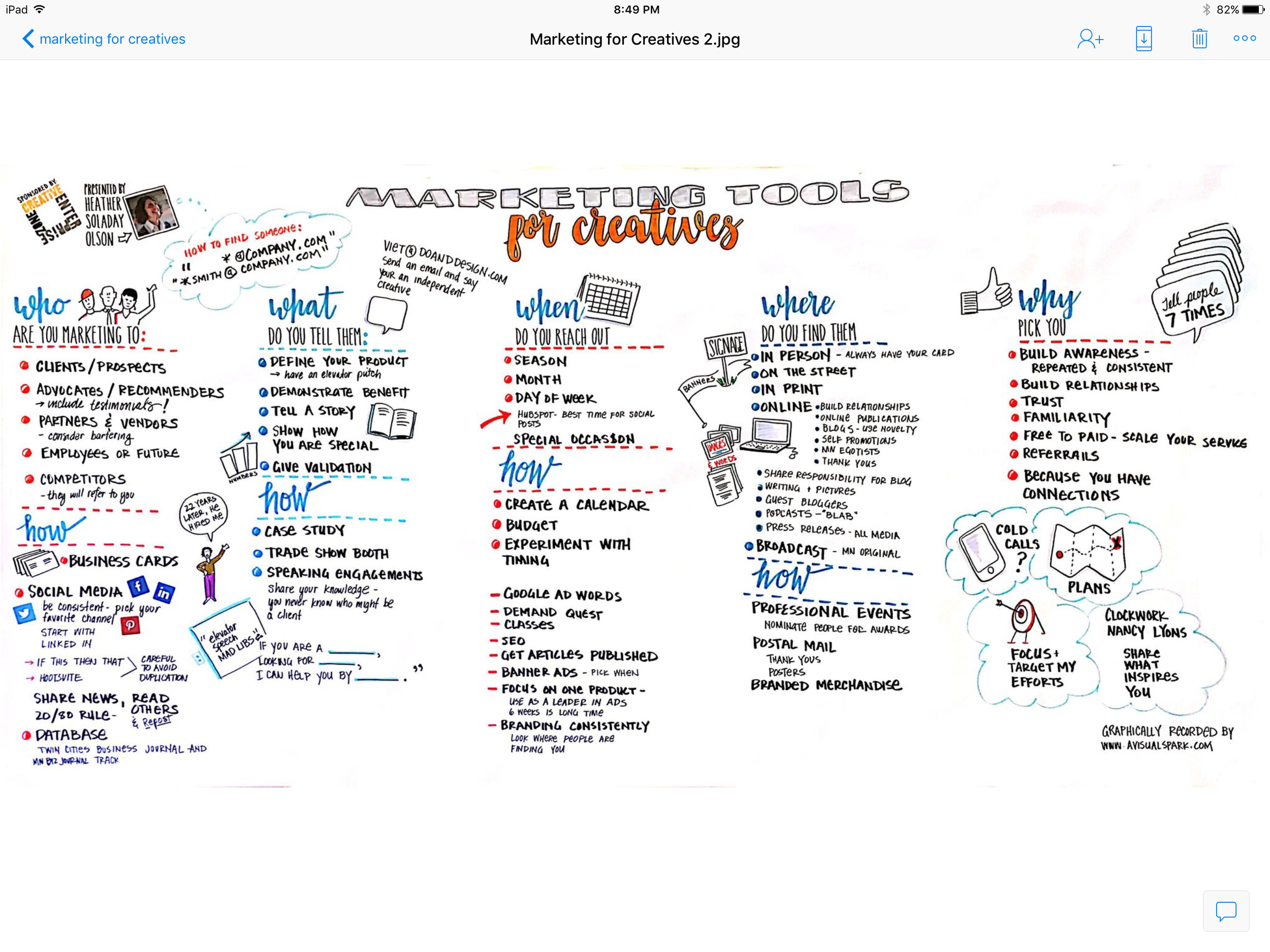 Illustrating information (done in studio)
Do you want to tell your story in a creative and compelling way? You can showcase an organization's history or present survey data visually as a way to generate conversation, elicit stories and demonstrate success. This work is not done live but instead over time in the studio. I work with you to develop a story and images that meet your goals.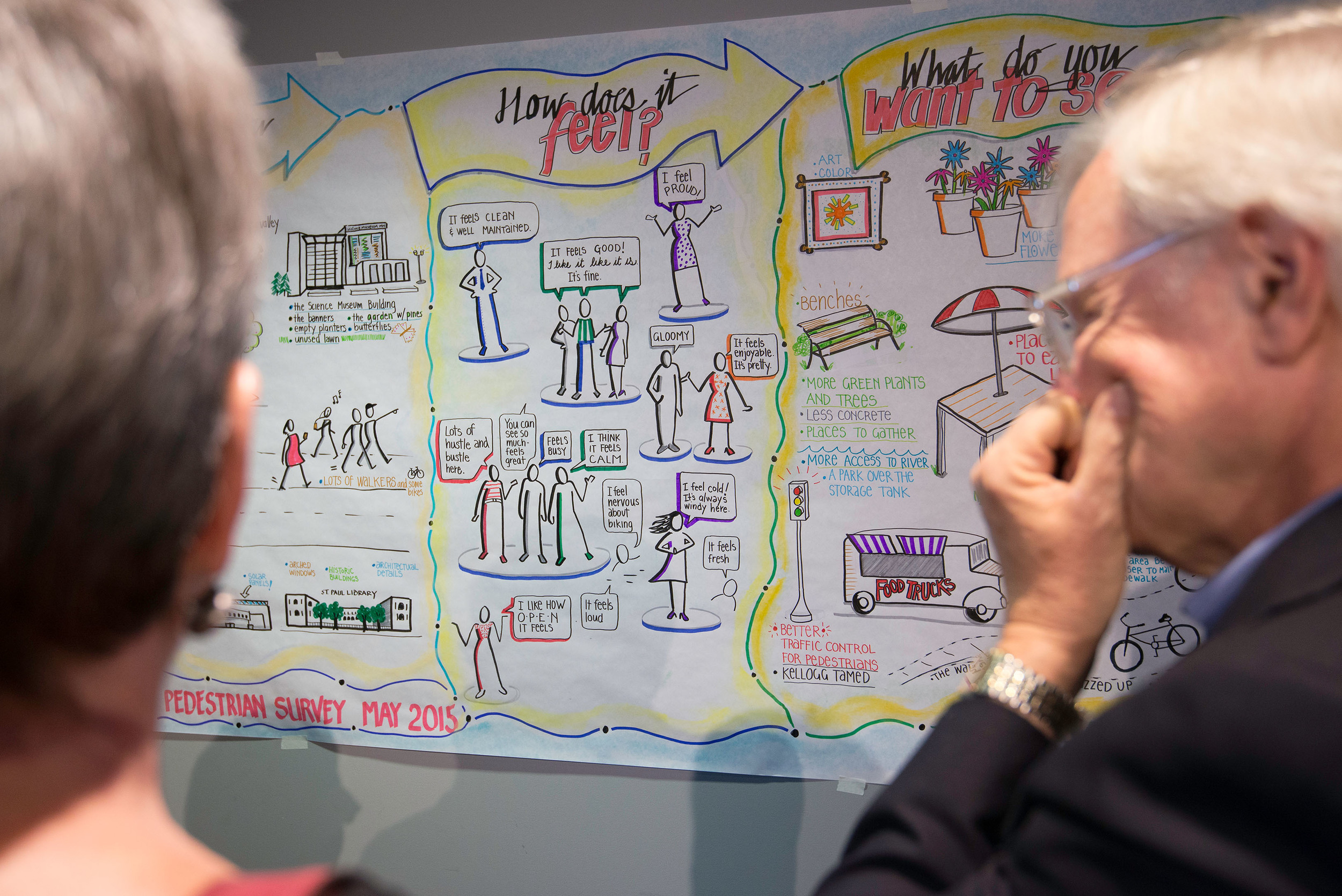 About me:
I live and work in the fabulous Minneapolis-St. Paul area and grew up in Chicago. I've years of experience in nonprofit management and community organizing. My grad degree was counseling psychology and I spent some time as an illustrator. I've done coursework in visual processes (graphic facilitation, scribing, and visual recording). For fun, I've done a few yarn-bombed bikes. You can learn more about graphic recording on my Pinterest page.
Sketchnotes - make your own notes more visual
Are you curious about the field or building your skills? Here are a few resources:
Notes that incorporate drawing, different scales of lettering, or other methods to help you remember or make sense of conversations, presentations or information. Sketchnotes can be personal or shared. Learn more:
Or see any of the resources below.
Large scale documentation done live to capture discussions, presentations, meetings, panel discussions using words and pictures. Graphic recorders listen, synthesize, and make visual what they hear. As a graphic recorder, I often work alongside a facilitator who is running the meetings. I'm there to capture what happens.
Books:
Courses:
Visual Facilitation:
Visual facilitators help you design the whole process of change - working closely with clients to plan meetings that incorporate visual templates or live drawing along with capturing the important content to help groups of people meet a goal, reach consensus, or successfully navigate change. I don't provide visual facilitation services but I can refer you to people I work with who can.
Courses:
The Grove (and they provide Visual Facilitation Services, tools and templates)
Resources for all these visual processes: